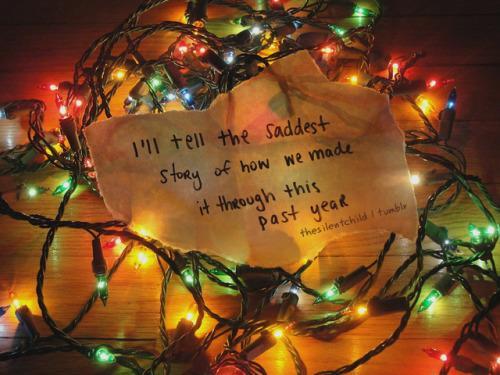 This Time of the Year Sucks…
This time of the year can be very exciting for many people. There are a lot of holiday festivities happening that involve connection, creativity and a sense of belonging. Children make their Christmas lists and parents panic frantically trying to find the gifts that their children want. Sightseeing the Christmas displays in all towns and cities, breaking bread with family and friends, and shopping until you drop—-That's the spirit…
Well…This time of the year sucks for a lot of people. The holidays are a reminder of separation, trauma, and unhappiness. If this time of the year is about the connection with loved ones, then what do you tell a mother who has lost their child to a heroin overdose? The person who misses their wife because she died doesn't give a shit about holiday cheer. The homeless person would do anything to drink hot chocolate in front of the fireplace with their loved ones. The child that is in foster care that has one wish for Santa, probably wishes he could see his father.
We hurt. You hurt. I hurt. Compulsive shopping and obsessive planning can distract us from what we are really feeling this time of the year. For some, there is a great deal of anxiety "to get it right"… The right gift, the right packing, the right color…There is a lot of pressure the holidays can put on people. Or, people let the holidays add unneeded pressure—the need to please others.
This time of the year also brings about an increase in alcohol use, for many reasons. Social consumption of alcohol use is often overlooked and people overdo it.
Think about others—-the ones that hurt; the ones that grieve; the ones that are lost; the cold; the hungry; the ones that are imprisoned and locked away. Watch the pressure you put on yourself—that shit doesn't matter. Nobody is going to remember you got them a yellow sweater and they requested a purple one. People will remember if you made time for them and how you made them feel. Invest in that shit.
This is the time to invest in your relationships and to be selfless to others. This is all we get. After all, what if this was your last holiday season with your family. How do you want to be remembered if your family spent the next year without you?
https://www.louisvillehealthandhealing.com/wp-content/uploads/2020/12/This-Time-of-the-Year-Sucks-Blog-Image.jpg
375
500
Louisville Health and Healing
https://www.louisvillehealthandhealing.com/wp-content/uploads/2020/12/logo.png
Louisville Health and Healing
2018-12-09 21:23:42
2020-12-31 22:05:53
This Time of the Year Sucks…